Chair Massage Las Vegas – A Great Tool for Marketing
The number of companies offering chair massage Las Vegas as a marketing tool or employee reward is growing every year. It is a guaranteed attention-grabber at Las Vegas conventions, exhibits, and trade shows, and hospitality suites, enabling you to keep your customers on-site longer.
Hired Hands Massage can provide you with one or more qualified, attractive, friendly massage therapists, trained to locate and rub out the kinks. All therapists are fully licensed, insured and ready to help make your exhibit a success. Grateful customers will be happy to hear your presentation after receiving this thoughtful gift! Chair massage is a great addition to any employee appreciation event, from holiday parties to health fairs.
Hired Hands Massage Las Vegas, 89119 is on the official service provider list of the Las Vegas Visitors and Convention Authority, and is a member of the Las Vegas Hospitality Association. We are booked repeatedly by companies that recognize the ROI of this service. For customized chair massage rate information, please contact us with details about your event including dates, hours, and number of therapists requested.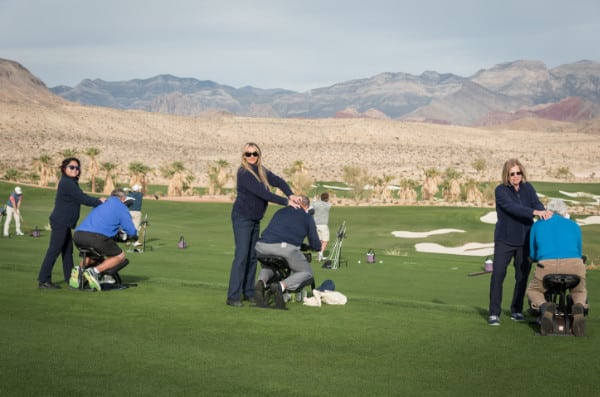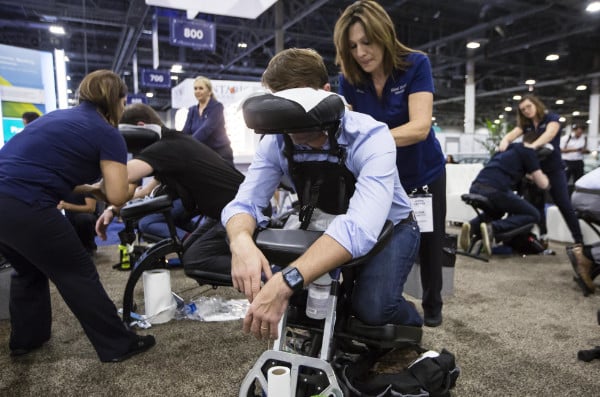 "My experience with Susan was fantastic! She is very professional and courteous. She focused on pressure points and the neck area that troubles me from time to time. The next time I visit Vegas, she will be my go to."
– Mer Thomas-Wonacott
"We hired Susan and her team to provide massage therapy for a hospitality lounge in Las Vegas. It was a last minute addition and Susan came through with impeccable service at the drop of a hat. Her costs were reasonable and well worth the great service. Her team was energetic and provided friendly interaction with our guests. I would highly recommend Hired Hands!"
– SUSAN BENDER, SUTHERLAND GLOBAL COMMUNICATIONS
"A great experience!
Our company used Hired Hands Massage for a convention to introduce a new product line. our customers had great things to say about both therapists. they were also both very punctual & professional.
– Jessica Drake, Wicked Sensual Care
"They did such a great job. For a fraction of the cost of flashier displays nearby, we were able to not only lure people away, but generate a longer and better flow of traffic to our booth."
– BILL BERGAIDIS, CEO, E.R. DON CERRITOS INC., COMMERCE, CA.
"This team was great to work with during our expo booth. On time, professional, positive attitude, and very hard working. Would absolutely work with them again!"
– Sherice Dean, Bryan Allen Events
"We used Hired Hands to give 10-minute neck and shoulder massages in our booth at the Las Vegas Convention Center in March. Professional, friendly, excellent massages (one person said it was the best part of his Vegas visit), couldn't have asked for more. They even stayed past the agreed upon time one day to accommodate the line. Real plus was the people we got to chat with as they waited, so it was an excellent business decision as well. We will use them again!"
– SUSAN WILES, DIGITAL SIGNAGE FEDERATION
"I had the pleasure of engaging Susan and her team to provide chair massages at our Corporate Event. They were a joy to work with.
Susan was patient, communicative and responsive to our needs during the planning process. Kelly, Becky and Ricky were great therapists – all my guests left the massage chairs with smiles on their faces."
– JUNE WEE
"I've been going to Susan off and on for a few years now and she is simply one of the best massage therapists I've ever gone to. I'm definitely loving the location. It's a relaxing and peaceful environment. One thing that sets her above the rest of the personal massage therapists is that she makes accommodations to meet your needs or your schedule. I've been in on a Sunday before which totally works for me because of my hectic work schedule. I left the appointment feeling refreshed and totally relaxed."
– JAMIESON GLENN
"We come to Las Vegas once or twice a year, for many years now, and always call Hired Hands for in-room hotel massages. They're better and cheaper than the hotel spas."
– JOHN SCHWARTZ